T Part Wig vs V Part Wig vs Headband Wig:How to Choose
Human hair wigs are extremely popular in the hair industry right now, and that's because human hair wigs are the preferred wig type.There is a lot to know about a wig before you buy one. Different features categorize wigs: color, density, style, etc. There are multiple types of wigs, and today we will look at the t part wig, v part wig and headband wig in detail.
In this article, we'll compare human hair wig t part wig,v part wig and headband wig to help you make an informed decision about which is best for you. By the end of the article, you may also realize why you've had bad experiences with human hair wigs in the past. Let's get right into it!
What Is 

T Part Wig?

What Is V Part Wig?

What Is 

Headband Wig?

How to

wear the three wigs(t part wig,v part wig and headband wig)?

How to choose between the three?

What Is 

Your Choice?

END
WHAT IS A T

 PART WIG?
What does a T PART WIG mean? A T part wig is what it says, the area of the lace on this wig is a shape T, and it has appeared due to the shortage of the lace.T part wig is also called T part lace wig or lace part wig. The feature of this wig is with a 13X4 inches lace area. The lace from ear to ear on the edges and in the middle of the parting space, which makes an upside-down "T" shape on the wig. The lace area extends from ear to ear (13 inches) with a full and natural hairline, which is the same as a lace frontal wig, but there is not enough lace for free parting, only 1 inch, so you will only be able to part in the middle.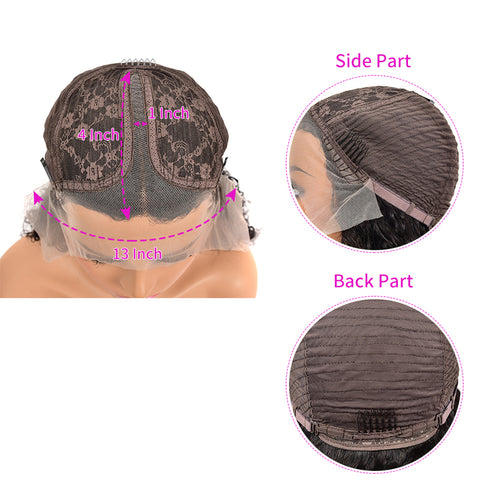 WHAT IS V PART

 WIG?
What does a V PART WIG mean? They are the wigs that have wigs sewn on a v part wig cap. They are made into a V shape structure whose weave tracks are sewn onto a wig cap with an opening left to let your natural hair flow through. What more one can want if you have your own tresses blend smoothly to the attached wig. It is also called a v-shape human hair wig, which means it is a modified half wig with a v-shaped opening on the top.
They are made of human hair which is by far the most sought-after article. It is substantially because of the fact that it's safe from the chemicals used during production, which are required to sanitize the hair, as well as strip away the initial color.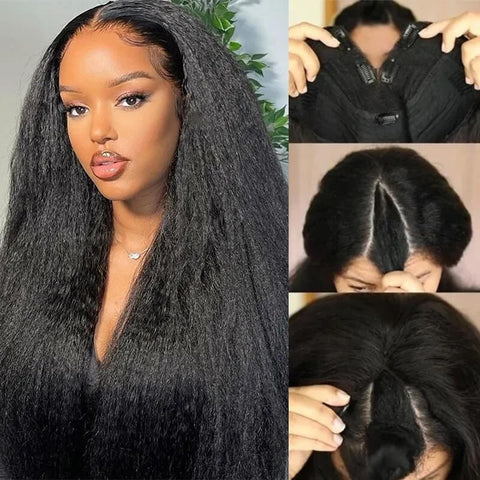 WHAT IS

HEADBAND

 WIG?
What does a HEADBAND WIG mean? Headband wigs, just as its name implies, are wigs with a headband attached, and the hair is sewn on a soft wig cap. The special part about the headband wigs is that they only go on the back of your head while you style your natural hair in the front. Generally, there are clips and adjustable straps on the back of the cap to fix the hair. The wig headband is a very soft and comfortable special design to fit the wig perfectly.
The specialty that embarks the journey headband wig to great heights is, it is only worn at the back of your head, while you need to style your natural hair in the front, so people also call it a half wig.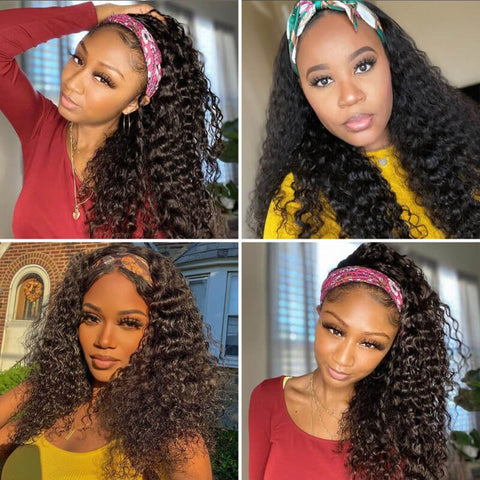 H

ow to wear the three wigs(t part wig,v part wig,headband wig)
1.How to wear a T

 Part Wig?
APPLY YOUR WIG, MATCH THE WIG PART TO YOUR PART.
CUT OFF THE EXCESS LACE.
APPLY WIG GLUE ALONG THE PERIMETER.
PLUCK THE HAIRLINE IF IT HASN'T BEEN WELL PLUCKED.
LAY THE BABY HAIR.
APPLY SOME POWDER ALONG THE PERIMETER AND THE PARTING.
APPLY SOME GEL AND USE A HOT COMB TO FLAT THE FRONT OF YOUR HAIRLINE AND PARTING.
These steps are crucial when using a T-part lace wig because the customization is so limited with this style of unit and personality is a big part of slaying your wig.
The rest of the install is up to you, you can do any style you like.
How to wear V

 Part Wig?
Part your top hair to be V shape
Tie up your own hair at V shape
Tie up the rest of hair.
Put the wig on from the center of the v-part and lip it in whenever there are clips.
Blend your own hair with v part wig.
Flawless finish.
Note:flat iron or curl your leave-out hair with wig together,so that is blends seam-lessly.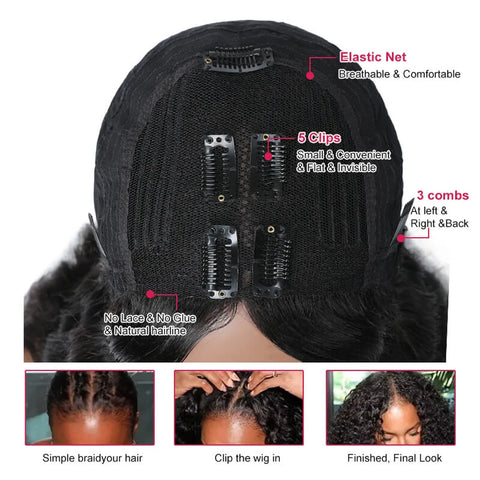 How to wear a H

eadband Wig?
Brush your natural hair and put on a wig cap.
Wear and fix the wig.
Make the baby hair natural.
Wear headband and do styles.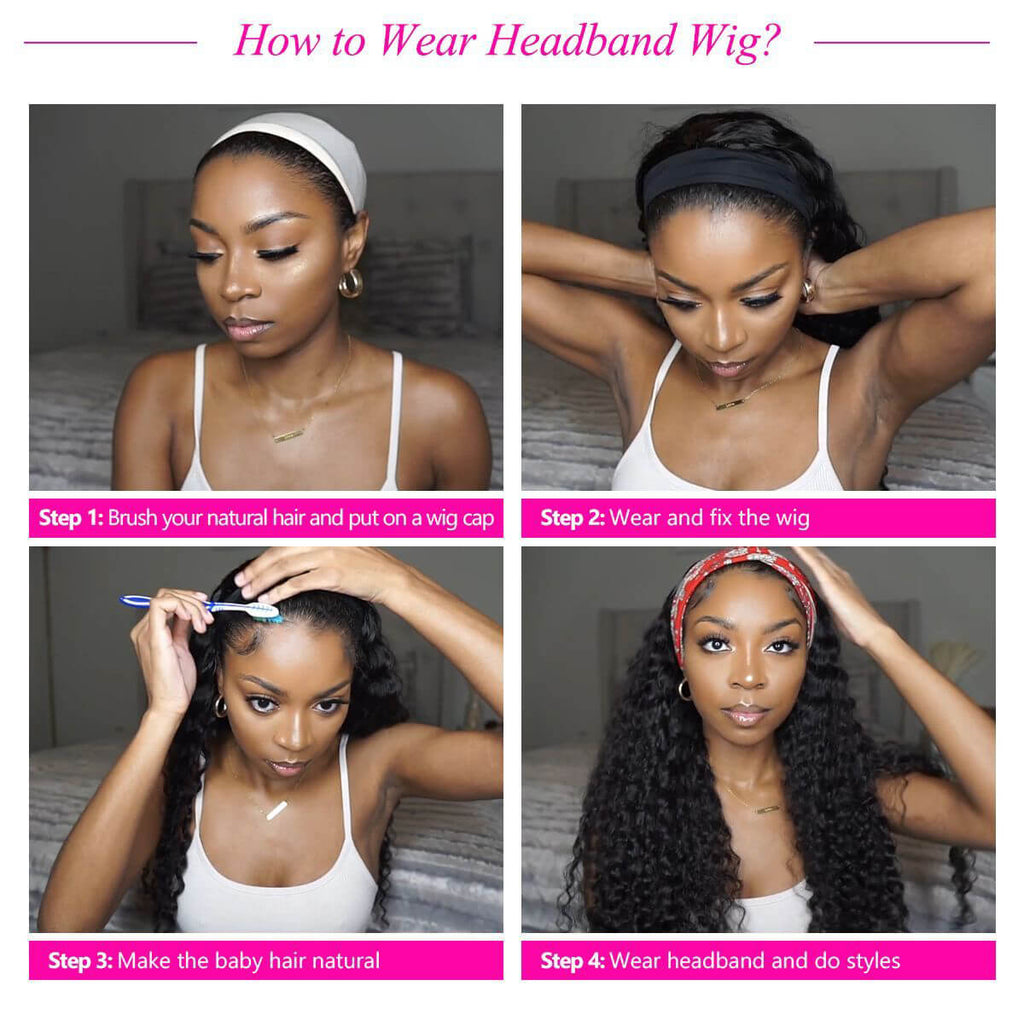 Ho

w to choose between the three?
Choosing between t part wig,v part wig and headband wigs can be difficult if you don't know what factors to consider. That's why we'd like to clearly address this topic in this section.
Here are the main things to consider when choosing a hair wig:
Quality: they are all 100% virgin human hair,the matrial are all the same,so the quality depends on t part lace,v part and headband.
Price: t part wig > v part wig = headband wig. T part lace wig are hand made 13x4x1 lace hand made in front and middle part. So the price is higher than v part wig and headband wig. V part wig and headband wig are machine made,so the price is cheaper.
Styling: A T-part lace wig is a type of the lace wig that has a similar look to a lace frontal, but limited to work like a closure, it has less lace in the front to play with, so it needs to follow the install steps to make your T-part wig look more natural. For v part wig and headband wigs, you will not need to spend time cutting extra lace at all. Also, you do not need to use glue to install v part wig and headband wig, this can prevent bad-quality glue from damaging your health and protect your skin. The headband is elastic and very comfortable, and it can fit the wig on the head very well.
Install time:For t part wig,it needs to follow the steps to install the wig. For v part wig and headband wig,It is easy to wear so it is a great help for beginners to dive into a pool of uniqueness. It's a lifesaver on busy days as it requires only 2-3 minutes to get the V part wigs or headband wigs done or taken off so that you can change the hairstyle in a nick of time.
What is 

your choice

?
The T part wig is one of the most affordable wig types. It is much cheaper than a lace frontal wig, but without diluting the natural-looking effect.When you look at the T part wig cap from the inside, you'll notice something which we absolutely love. The T part wig has a full front hairline area. So, this leads to a similar natural result that you would get with a more expensive lace frontal wig.
As the V part wigs leave an opening on the front to blend your natural hair but it can't be a blessing for everyone. By this, I mean those people, who have a special reason to cover the thinning hair and receding hairlines. Because the human hair on the top of the head cannot completely cover the v-shaped opening, thus making it is easy to see that the wig is worn.
Talking about the versatility of headband wigs; aside from offering a natural look and adding charm to a person's personality, cheap headband wigs can help people boost their confidence. You can wear it in daily life, weddings, dating, theme parties, cosplay, church, school, shopping, and any other formal and special occasions.
It's worn as easily as a hat. if your hair volume is relatively small, you can wear the headband forward, if the hair volume is good, you can move the hairband back a bit to expose some baby hair.
Also, do you know what is the biggest similarity between the V part wig and a headband wig? That is, they are all high-quality cheap wigs of human hair. Nevertheless, it gives appeal to your outward look elegantly, mesmerizing the gathering you are in. In a word, really the choice can be anything!
END
We hope that this guide helps you make informed decisions about wig types when you shop wigs. Knowing the ins and outs of each wig type will help you understand that you get what you pay for. If you want top-quality hair, invest in virgin hair. And for the best of the best virgin hair wig, we encourage you to shop our extensive lace wigs  - you won't find better virgin hair anywhere.